I will be bringing a few dwarfs to show as well as sell. So if your interested in any please come find me Saturday morning. Thx John
looking for a show quality trio of nzw
I have a broken black doe and a solid black buck for sale.  From same litter.  Both are 6 months old and ready for spring breeding.  Out of excellent Gold Creek stock.  Check out site for details.  http://fenwoodhobbyfarm.webs.com/apps/webstore/ ;
GOLD CREEK RABBITRY will be offering some possible show worthy mini rex in-
Broken in-black,caster,blue,red?
Otters-black,choc,blue( solid and broken)?
Solid colours - black,red,caster.?
Many of the above could be from my Grand Champion Lines
Just drop me a email if looking for something .
I will post a list in early spring of 2013
Special price consideration for any youth show purchase.
Regards Betty
www.goldcreekrabbitry.com
six young fully pedigreed Polish bunnies.
prices range from $20-45.
Check them out from AT Home Pets. 
the boys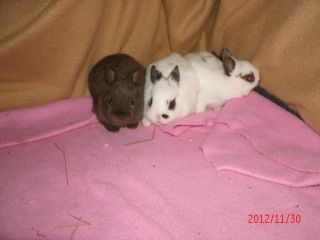 the girls